Bob Wilber to showcase his book Bats, Balls & Burnouts Saturday at the AAA Texas NHRA FallNationals at the Texas Motorplex
by
Mike Haag
| Posted on Friday, October 13th, 2017
ENNIS, Texas – If you are a fan of baseball, soccer or drag racing, then you are going to love Bob Wilber's new book, Bats, Balls & Burnouts: A Life of Sports, Marketing and Mayhem.
The 543-page memoir is filled with tales from the drag strips to the baseball parks and soccer fields. It showcases Wilber's fascinating and incredible journey in life that was influenced and inspired by his dad, Del Wilber, a former Major League catcher and manager and his mom Taffy Wilber, who was a radio personality and owner of a PR firm, along with his own career that has included professional baseball, soccer franchising, and managing/public relations for several National Hot Rod Association drivers.
Bats, Balls & Burnouts was released on May 23 by Outskirts Press and is now available on Amazon.com and other major retail book sites. It can be purchased as either a hard copy or as a digital download. On Saturday at the AAA Texas NHRA FallNationals at the Texas Motorplex, drag racing fans will have an opportunity to meet Wilber and purchase a copy of his book between the two qualifying rounds beginning around 1:15 p.m.
Wilber, 60, retired in December of 2015, after a 20-year career as the team manager and media relations representative for NHRA Mello Yello Drag Racing drivers Del Worsham and later Tim Wilkerson in order to write his autobiography. After 16 months of writing and editing Bats, Balls & Burnouts, the success and popularity of the book has been incredible.
"It's been stunning to me actually," Wilber said. "To be honest my expectation bar was set very low. I had no preconceived notions that it would be a New York Times Bestseller or anything like that."
Wilber added, "I knew that there would be a good rush on sales right after the book came out, but I had no inclination that it would continue to sell. Every time that I think we are winding it down now and everybody who has bought it, then we have another spike in sales. We have sold way more than I would have ever thought."
Bats, Balls & Burnouts has already received 22 five star reviews on Amazon.com and readers have said once they start reading it that they have a hard time putting the book down.
"These stories are from the time I was old enough to realize that I was on the planet Earth," Wilber said. "The book starts with me at three years old on my mom's lap in Charleston, West Virginia and realizing at that age that was my dad down there in the third base coaches box. I had a million stories to tell by the time I was 12. I was so fortunate to follow this path that I have been on where I have been able to follow my dreams."
Wilber said his parents actually met in San Antonio. His mom was a former Miss Air Force San Antonio, who worked at Lackland Air Force Base during World War II and his dad was also there as a physical education instructor.
After Wilber's parents married and began having children, his life eventually took off on a magical sports-filled journey. After becoming aware of baseball while watching his father manage at the Triple-A minor league level for the Washington Senators, the book highlights stories of his own journey as an elementary, high school and college baseball player.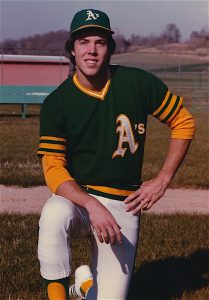 It also captures the detailed and vivid stories about his days in the Detroit Tigers and Oakland A's organizations, followed by a four-year stint as a scouting supervisor for the Toronto Blue Jays. Wilber also ventured into the world of sports marketing and promotions, before becoming an executive for three different professional indoor soccer franchises, the St. Louis Storm, Kansas City Attack, and Indianapolis Twisters. He managed to do all of this before venturing into the world of drag racing and the NHRA.
"I wrote the book because it was time to do it," Wilber said. "People had been begging me to write a book for years. When 2015 ended that was the end of the 20th year of being a team manager and public relations rep in NHRA for a couple of Funny Car teams. It was just the right time."
After launching a kick-starter campaign to help fund the book, Wilber went on a 16-month journey and spent countless hours writing and telling his life stories.
"I just dove in," Wilber said. "I had been writing all my life, but I had never done a book. I worked at it five or six days a week. Generally in the morning it was research and reading to keep my brain engaged. I felt like in the afternoons my sweet spot was four to six hours. Anything longer than that and your brain kinds of locks up. It's very physical to write that amount of stuff."
Wilber said the book has a "plow forward" theme, which basically has been his own life's theme.
"I didn't even get that until the fifth or sixth chapter," Wilber said. "I realized that I had made a lot of life changing decisions on a whim or a gut feeling. All my life I wasn't the guy who over-analyzed ever decision that I made in life. I've quit jobs that I have loved to go do something else. I never thought drag racing would even enter my life much less be central to it for 20 consecutive years."
Wilber said his drive, passion and mission in life has always been to being part of a team. He said that he has been fortunate because most of his life he has been able to wear a ball cap and jersey to work every day.
"I didn't get to the big leagues like my dad did," Wilber said. "That was my dream to play in the big leagues. I made it up to myself to make him proud of what I could do in other sports and just follow that dream wherever I could, wherever it could take me and try to experience it all. That's where it connects it all together."
Wilber said that the experience of writing the book amazed him and made him realize that he was capable of learning so many things and becoming a much better writer.
"Because I didn't play 9 ½ seasons in the big leagues like my dad did, I kind of felt like I was a failure in terms of baseball," Wilber said. "That was my goal in life to be like my dad and follow in his footsteps. I finally realized that as a writer and a ballplayer, I really wasn't that bad."
Wilber added, "Within my own heart I am proud of what I have done. I am proud of writing the book. It's the first time that I've allowed myself the chance to call myself an author instead of a writer and I am proud of all of the things that I accomplished in the business world, in sports marketing and especially on the baseball field."